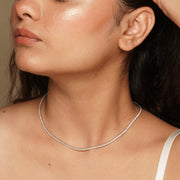 If you have a fetish for silver jewellery then check out the silver necklaces from OLLUU which is something that you would want to flaunt with your outfit. The beauty of a silver necklace is that it complements any look and lets you seem perfect effortlessly. It makes a style statement and can easily add drama to any outfit instantly to transform a casual attire into a classy dress. The silver necklaces from OLLUU make you the center of attention with the unique touch that it adds to your personality letting you stand out in the crowd.
Your online shopping destination for silver necklaces
OLLUU specialises in varied silver necklaces be it chokers or chains, so depending on what the occasion is you can choose either a traditional piece or a modern design to look chic.
It is however important that when you choose to buy a silver necklace for women online you buy it from a reputed company like OLLUU. We not only boast of our decadent designs but also use silver of the best quality. With the finest grade silver, we craft it into intricate designs and use stone sand gems to give it a dazzle. Our collection is thus elegant, and sophisticated and offers unique craftsmanship that is sure to impress. 
Each silver necklace design is an ode to a woman's beauty and strength. Whether you are looking for an understated or simple design, OLLUU is your one-stop shop that works hard to make every woman feel like a diva when they adorn the pure silver necklace.
How to choose the right silver necklace 
We at OLLUU offer a wide range of pure silver necklace design to meet your style requirements. 
At OLLUU we celebrate women's beauty and grace and design each of our neckpieces to be expressive and to create a balance between traditional heritage and urbanity.
With the plethora of options that we have on offer, it could be overwhelming for someone to decide on the perfect silver neckpiece. Here are the details of what each silver jewellery is.
Silver choker necklace – These necklaces are short and they sit close to the neck
Silver pendant necklace - A pendant is an ornament that is small and hangs from a chain. It has unique motifs
Statement necklaces - They are bold pieces that catch the attention
Layered necklaces - Layered necklaces will have multiple chains of varied lengths 
To narrow down your choices consider the occasion where you will be wearing the silver necklace set. You may want to purchase a simple pendant necklace for daily use or a choker set for any special occasion. You must choose a design that complements your personality. 
Your go-to-place to buy silver necklaces online- OLLUU
Dazzling, indulgent, and luxurious are the words that crop in your mind when you think of a silver necklace. 
At OLLUU you can browse through a vast collection of designs and styles each of which promises to accentuate and enhance your look be it any occasion.  
A vibe personalized just for you
Shop from the comfort of your home at OLLUU and mix and match the silver necklace to an attire of your choice. Personalize it as per your taste. With attractive shapes and designs that get delivered right at your doorstop. You are free to bring out your creativity and see what best suits your style statement. Why follow the crowd when you can come up with your fashion book?
A heart-shaped silver pendant necklace
worn on a causal attire, a chic piece teamed up with a white t-shirt and blue jeans, or a lovely dazzling choker with your salwar kameez, the fun does not stop here. The sky is your limit and you can pair your silver necklaces with any attire from your closet be it a casual, semi-formal, or ethnic ensemble.
Authenticity at affordable prices
At OLLUU every jewellery piece has a 925 Sterling silver stamp that proves its authenticity. You can be assured of the highest quality of the jewellery that is crafted using modern technology to ensure that your silver necklace keeps looking new for years to come. With compelling discounts and competitive pricing, you never need to worry about paying an exorbitant amount to own our neckpieces. 
So what are you waiting for? Shop for a chic piece of pure silver necklace from OLLUU without a second thought and we will take care of the rest.